Click for Senate Chamber


http://www.international-parliament.org/senator-sign-up.html
Senator Chamber Facebook Page
New Policy for International Parliament (IP) Senator Sign Up
Read more below, then send $60. via Western Union to Marion Davenport in Georgia USA, and email him the confirmation code at khobbnick@gmail.com
And Free IP Senator Sign Up Too!
Free IP Senator Sign Up is always guaranteed for the Three Top Names Elected Everywhere Six Geo-levels simultaneously
World Geo-level; 36 IP Senators Worldwide for the new "Provincial IP Senate Chamber" Est. August 5th 2022, three top-ranked names from every country, marked paper ballots (signature required).
National Geo-level: Around 600+ National IP Senators in Senate Chamber, three top-ranked names from every country, marked paper ballots (signature required).
Use Write-in Paper Ballot e-aps-13, Unity Platform e-aps-6, and just about any marked paper ballot before April 1st 2022 will get your name nominated!
Dues-paying ($60./5 Years) IP Senator Sign
Get the Senator ID and Certificate Here!
Dues-paying ($60./5 Years) IP Senator Sign Ups Get the Senator ID and Certificate for six Geo-levels; World Geo-level or National Geo-level - You Pick Where Your Name as Senator Gets Elected!
Please follow and complete step #1 and step #2 in instructions below to complete the IP Senator sign-up for Dues-payers.
New Senator sign-ups get a term through the end of the year plus one full consecutive year that follows.
Sample ID (Actual size 3-1/2" x 2-3/4") and Certificate actual size 8-1/2" x 11"):
International Parliament's Senator Frank-Michael Hensel [NWP] Germany 5/5/2015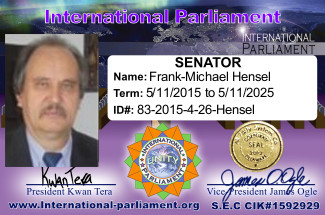 * * *
Senator sign up becomes effective only upon receipt of $60. donation and the ID and certificate are delivered via email within approximately 15 to 30 days.
International Parliament (IP) Senators are added to the Senate Chamber homepage,
IP Senator email list and/or facebook chat list and closed Senate Chamber facebook page.
IP (International Parliament) Senators recieve special web page links in any Cabinet
Ministry they choose. Senators may switch from Ministry to Ministry as a
"Linked Senator" which demonstrates teamwork and helps with specific interests.
Senator Membership sign-up includes a one-year-term as IP Senator.
The one-year-term becomes effective on the day of the donation and continues
through the end of the donation year, plus the additional first full year which follows sign-up, from
January 1st to December 31st.
* * *
Welcome new Senators and Members of Parliament (MIPs)
* * *
Please Complete STEPs #1 and #2 Below to Register as Senator in International Parliament
Questions answered by telephone works too! USA (831) 236-3829
STEP #1: Three Methods to Make the $60. Donation
Use Western Union:
Click Here to Use International Money Transfer Via Western Union
Please Make Payable Attention and send Western Union Confirmation Code to:
Marion Davenport
Georgia, USA
Please Email to Treasurer assistant Marion Davenport with Western Union Confirmation Code khobbnick@gmail.com or contact the All Party System Co. for additional info.
UCC-All-New-Members-Help-Sign-up Facebook Page (Join Here to Get Help/Info. Via Facebook)
Or, Use PayPal:
Or, Use Postal Service:
James Ogle
(Make check payable to James Ogle)
1213-C Forest Avenue
Pacific Grove, CA 93950
USA
Contact Us
* * *
STEP #2: Send Sign Up Information
--->Click HERE To Sign-up<---(Follow those Directions)
YES, sign me up as a Senator of International Parliament. To validate my membership, I certify that
I oppose the initiation of force to achieve political or social goals.
* * *
Please contact us if your name isn't seen added correctly to the Senator column within 48 hours!
* * *
Senators and Responsibilities of Senators
Click Here to See Guideline #34
The Senator's donation will be recorded and should the Senator ever wish to
"stand down", then the donation amount will be not be refunded nor will
the donation be transferred to another name.
The numbers of seats for Senators shall never be more than the number
of free elected members of International Parliament (MIPs).
The Senators may vote on Senate guidelines and decisions from time to time
but there is no requirement for such votes which are voluntary only. These
compilation of votes will be conducted only by the Senators themselves.
All Senators shall have access to all financial records for the
International Parliament. More detailed information which isn't available
on the Treasury Ministry's web page will be made available within 90 days
to Senators when a request is made in writing to the Treasury Minister.
All payments are to be in US dollars only, unless pre-approval is
obtained from the Treasury Ministry.
When five hundred Senators have been elected, special new guidelines for Senator elections,
the nomination and election of the new Senator guidelines will become effective, and an election
of current and newly nominated Senators may take place within 90 days of reaching the 500 Senator
sign ups.
All Senators may receive an bi-annual email invitation to the
International Parliament's annual and/or bi-annual picnic/convention(s).
* * *
Responsibilities of Senators
-- Senators may vote for the Ten Executives (Eballot #3) and/or
one set of guidelines (Eballot #1) in a perpetual "vote of confidence".
-- Voting by Senators for the "Vote of Confidence" (Eballot #3)
and for the guidelines (Eballot #1) may occur and/or change at anytime.
-- Help and support in voting is readily available by contacting us.
-- Elected Senators aren't required to vote.
-- Only the Ten Executives are expected to do more than Senators.
The Ten Executives are expected to vote on the Cabinet Ministers
and agenda.
-- The Senators and the regular free MIPs
(MIPs = Member of International Parliament) hold those ten executives
accountable with their "votes of confidence".
-- The Senators and free MIPs are meant to give 50/50 balance to
the free and the monetary interest groups within the
International Parliament's virtual chamber.
-- The Senators may be invited to the All Party System Co.,
board of directors as "Investor BoDs" and will be asked to
sign agreements prior to being elected by their own vote,
a vote which is triggered when they accept having their
name elected to the board of directors (BoDs) and which
becomes effective when the three signed agreements are received.
Stock Purchase Agreement Option
--Apply your donation for Senator to share/stock purchase in All Party System Co. (restictions apply):
Click above for the Links to the Three Agreement Forms in order for for your donation to apply to the purchase of shares/stocks.
* * *
Senate Chamber History
Senate Chamber History in 2018
Senate Chamber History in 2017
Senate Chamber History in 2016
Senate Chamber History in 2015
Senate Chamber History in 2014
Votes for Speaker and Co-Speaker of Senate Chamber by Ten Executives
Eballot #69
Marked Eballots #69
* * *
Navigation to the Earth's Twelve Population-Balanced Provinces (Est. 2016)
1. China #1
2. China #2
3. India #1
4. India #2
5. Africa #1
6. Africa #2
7. America #1
8. America #2
9. EurAsia and Middle East
10. Russia
11. Europe
12. Asia Pacific
Individual "Republic of Earth Parliaments" Grouped by Continent (Est. 2013)
* * *